RAY COUNTY, Mo. – A criminal setting in Ray County was continued Wednesday, so the Special Prosecuting Attorney could consider his response to a motion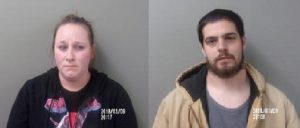 to dismiss.
The motion to dismiss was filed by the attorney for  Melissa A. Holloway, 26, of Rayville. Holloway is charged 22 counts of child abuse or neglect, tampering with a witness in a felony prosecution and hindering a felony prosecution. Most of the charges stem from Holloway's failure to intervene when her boyfriend, Mario Barreto, 29, reportedly abused a 9 year old victim that lived with him.
The criminal setting has been rescheduled for 10:30 a.m. on Wednesday, May 1st.