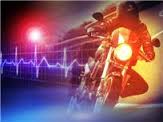 CHILLICOTHE, Mo. (KMZU) — A Chillicothe man was hospitalized after a motorcycle accident Tuesday afternoon.
According to the Missouri State Highway Patrol, Seth Duvall, 22, of Chillicothe, was southbound on Route V, just five miles east of Chillicothe at 3:32 p.m. Duvall reportedly failed to negotiate a turn, crossed the center line and ran off the roadway. He was ejected from his motorcycle after striking a ditch.
Duvall was taken by Chillicothe Emergency Services to Hedrick Medical Center in Chillicothe. He is being treated for moderate injuries.