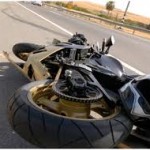 UPDATE: (07/24/16) 3:20 a.m., A Kansas City motorcyclist was injured when he crashed on eastbound Interstate 70 in Lafayette County Saturday morning. According to the Missouri Highway Patrol, James Donovan, 45, lost control of his Harley Davidson motorcycle after it blew a tire around 10:15 yesterday. The vehicle skidded and traveled off the right side of the roadway, ejecting Donovan when it overturned. Donovan was transported by Odessa EMS, to Centerpoint Medical Center with moderate injuries.
UPDATE: (07/23/16) 11:15 a.m. Crews didn't have to block lanes for the wreck. The rider was taken to an area hospital for treatment. A tow truck was called in to remove the motorcycle.
The South Outer Road near Ritchie Road never experienced a backup of traffic. Crews have cleared the scene.
LAFAYETTE COUNTY, Mo. – A request for an ambulance and other emergency crews went out Saturday, July 23, 2016, for a motorcycle accident on the South Outer Road of I-70 on the west side of Odessa, Mo. It was near the 35.2 mile marker.
The caller indicated he believed his leg is broken. It;s not known which and that report has not been confirmed by first responders.
Drivers should use caution in the area near Ritchie Brothers Auctioneers. There are no blocked lanes but emergency vehicles are along the north side of the roadway tending to the injured rider.