CALLAWAY COUNTY, Mo. – A New Bloomfield rider was flown to Columbia after crashing his motorcycle in Callaway County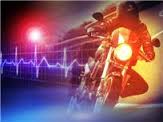 Wednesday afternoon.
The crash report from the Missouri Highway Patrol says Thomas Busalacki, 40, was westbound on Route F, East of County Road 321 when the crash occurred around 5:40 yesterday. Busalacki was overtaking another vehicle that applied it's brakes, causing the Harley Davidson to travel off the left side of the roadway, ejecting Busalacki.
The report says Busalacki received serious injuries before being airlifted to University Hospital for treatment.