COLE COUNTY, Mo. – Passing in a no passing zone, caused a crash involving a motorcycle in Cole County Friday afternoon.
The Missouri Highway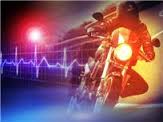 Patrol crash report says Derek Moore, 44, of Jefferson City pulled out to pass a line of cars on Rock Ridge Road, East of Glenstone Drive around 5:00 yesterday. The motorcycle ran into a vehicle driven by Regan Krummen, 19, of Jefferson City, who attempted to turn left into a private driveway.
Moore received moderate injuries and was transported to Capital Region Hospital for treatment.
Donnie King is your overnight news announcer on KMZU 100.7. Send story ideas to donniek@kmzu.com