NODAWAY COUNTY, Mo. – A Maryville man was injured when his Harley Davidson motorcycle ran of the road in Nodaway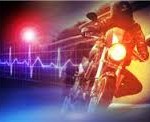 County Thursday.
According to the Missouri Highway Patrol, the accident occurred on northbound Jade Road, just North of Maryville when James Gabbert, 39, ran off the East side of the roadway. The bike crossed a driveway, struck an embankment then ended up in the ditch.
Gabbert received serious injuries and was transported to St. Francis Hospital in Maryville.