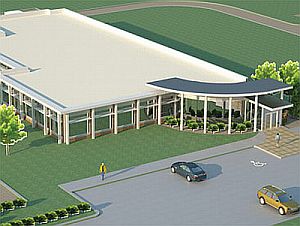 Twelve years ago Missouri State University's agriculture department leaped forward with renovations and expansion to Karls Hall, the agriculture building on campus.
Now the completion of a new education facility on the Darr Agriculture Center will enhance the college experience for agriculture majors. 
Dr. Anson Elliott, head of the MSU Agriculture Department, says the goal has always been to have a signature building on the farm that would house offices as well as classrooms.
Audio:  Dr. Anson Elliott
The new building has room for a banquet facility, lab work and classrooms where students can have hands-on experience with livestock.  According to Elliott, the new center is also wired for technology.  He says ITV technology will allow classes to be broadcast to other locations for students somewhere other than the main campus. 
To listen to the full interview with Dr. Elliott, click here.