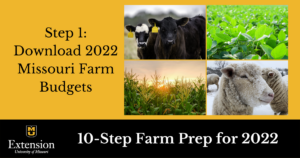 Columbia– For the next 10 weeks, MU Extension is counting down tips you can use to prepare your farm budget for 2022.
Here's the first #10StepFarmPrep22 tip:
Download the new enterprise budgets from Mu Extension to manage costs and project revenue for next year. By using these budgets, you can make informed decisions about the following: Click here to download Budgets for agricultural produce
MU Extension's tips are designed to assist Missouri producers and other agricultural stakeholders in evaluating expected costs and returns for crop and livestock enterprises. They present production economics information, data and analysis estimated in the fall season for the upcoming production year.