MISSOURI — Growers are trying to recover from the historic flooding that took place this past spring.
Some farmers were unable to plant a cash crop and now must decide on whether or not to try and get a cover crop in the field for the 2019 season.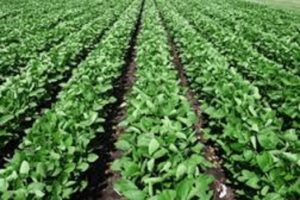 The University of Missouri Extension suggests that growers consider using soybeans as a cover crop. Like other types of cover crops, soybean help to protect the soil from erosion, weeds and since it is a type of legume, it can help fix the nitrogen content.
Before a single seed is planted, producers must first check with their crop insurance agent to avoid making any costly mistakes.
Once cleared by insurance, a farmer should plant a cover crop based upon their fall cash crop. Warm season cover crops grow quickly during the summer months, helping to prepare the soil for fall planting.
Soybeans thrive under warmer temperatures, and farmers would not have to make a lot of changes to their equipment.
Bill Wiebold, a University of Missouri Extension Soybean Specialist, suggest that a few small adjustments should be made when planting soybeans as a cover crop.
For producers with a tight scheduled, broadcast seeding may help plant soybeans faster than a drill or planter. Grower should also consider the cost involved with soybeans as a cover crop, changing the row spacing from 30 inches to 15 inches, increasing the seeding rate and planting into a clean field.
Keeping weeds at bay once the seeds emerge is crucial as competition can kill part of the cover crop.
According to Wiebold, is a soybean is used as a cover crop, it is not necessary to use herbicides or pesticides to treat the seeds or emerged plants.
For more information, visit the University of Missouri Extension Integrated Pest Management's website.