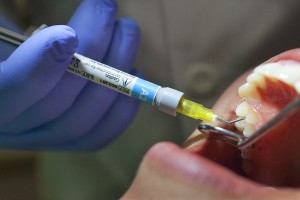 MISSOURI – The President of Nanova Biomaterials Inc., Hao Li, is also a Professor of Mechanical and Aerospace Engineering at the University of Missouri. Li recently created a product for restorative dentistry that has received approval from the Food and Drug Administration and will be sold to dentists commercially for the treatment of cavities and other tooth weaknesses.
Reporting on the subject is the MU News Bureau's Nathan Hurst.
NovaPro Flow is the new composite consisting of phosphate nanofibers, that is applied to the tooth as a liquid using a syringe. Once the composite is properly placed, filling a cavity, a blue light is used to harden the material. The hardening process lasts approximately 20 seconds. The flowing aspect of NovaPro allows the material to better fill cracks and crevices.
Products that were previously used to fill cavities and repair other tooth damage were known to have varying life spans and results. The nanofibers in NovaPro is much more biologically accepting because it is made from materials very similar to minerals in the bones and teeth of the human body.
The Food and Drug Administration approved the use of this product and it will be sold to dentists commercially.
The research for NovaPro was partially funded by the National Science Institute and the National Institutes of Health.