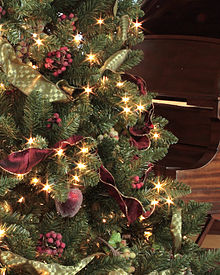 COLUMBIA, Mo. — While some use artificial trees to decorate their home for the holidays, others choose the responsibility of a real tree.
For those still searching for a holiday tree, Hank Stelzer, associate professor of forestry at the University of Missouri, said the key is finding one that is fresh.
"Gently grasp the branch between [your] thumb and forefinger and pull it towards [you]," said Stelzer. "Very few needles should come off in [your] hand if the tree is fresh."
Stelzer said a large amount of green needles should not fall from the tree until near the end of the tree's life. He added the type of tree is a personal choice, but the first step with every tree is the same.
"Within an hour of the tree being cut from the stump, it seals itself off," Stelzer explained. "What you want to do is then go in and make a fresh cut, usually about a quarter inch – half inch – right off the bottom of the stump."
Stelzer said to do this immediately before putting the tree into it's stand.
Christmas trees often take a lot of water during the first week. Stelzer said to be sure to keep an eye on your holiday tree at first to assure it makes it to the big day.