OAK GROVE, Mo. — The Sni Valley Emergency Management office said in a press release Friday that a disaster relief resource center will be set up in Oak Grove Friday and Saturday to help aid people in recovering from Monday night's tornado that damaged more than 450 homes and businesses in Oak Grove.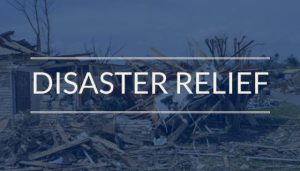 The center will be a multi-agency collaborative of local and state agencies as well as various relief organizations which will provide a centralized location for residents of Oak Grove effected by storm damage to have their questions answered and to learn more about disaster-related assistance.
The Sni Valley Emergency Management office recommends that all Oak Grove residents who were effected by the storm Monday night come to take advantage of the available services and information from the agency collaborative.
Services that citizens will have access to include:
Insurance information
Legal services
Food stamp replacement services
Health and wellness services
Emergency financial assistance
Child care
The services are only available to residents in the Sni Valley Emergency Protection District and people are required to bring proof of address with them to receive assistance. The center will be in operation at the First Baptist Church in Oak Grove on Friday, March 10 from 11:00 a.m. until 7:00 p.m., and on Saturday, March 11 from 9:00 a.m. until 3:00 p.m.