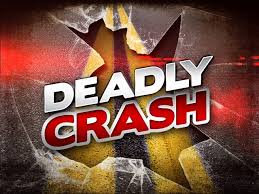 JOHNSON COUNTY, Mo – The intersection of U.S. 50, and 131 Highways was the site of a two-vehicle crash in Johnson County, in which multiple persons were injured.
A crash report by Missouri Highway Patrol mentions an eastbound vehicle, driven by Loan Tran, 20, of Warrensburg, struck a second vehicle that reportedly failed to yield on Northbound 131 Highway Sunday afternoon, March 13, 2016.
That vehicle, driven by Mary E. Pierce, 32, of Odessa,  was sent into a road sign and a utility pole before coming to rest.
Both drivers were serously injured, as well as passenger Molly Towne of Warrensburg.  Another Warrensburg resident, Shirley Tran, 14, was pronounced dead at the scene.  An infant, Henry Pierce received minor injuries.  All injured persons were taken to Centerpoint Hospital for treatment.