The views and opinions expressed in this piece do not reflect the views and opinions of KMZU, our employees, or our sponsors. They are those of the individuals interviewed only.
CARROLLTON, Mo— The story of a homicide investigation in a small western Missouri town shook its residents and shocked the victim's family. Now, almost three years later, KMZU's Ashley Johnson has obtained an exclusive interview with the victim's son and convicted murderer, Jacob Hayes Feldman, 21, accomplice to the murder, Christopher Dylann Hendren, 20, and a mutual friend to both men, Brent Lockhart, 18.
Some readers may find the content of this story disturbing and it is not intended for younger audiences. Reader discretion is advised.
A tale much like what you would see in a movie is that of a once innocent child turned murderer. Jacob Feldman said his life was never great, but in the wake of hormone filled teen years, one bad decision led to another which eventually brought the teen to the horrendous murder of his father, Walter Hayes Feldman.
Feldman was detailed in his recollection of what followed, providing his thoughts of what ultimately led to his heinous actions.
In the morning hours of January 23rd, 2012, Jacob Feldman, then 17-years-old, and 16-year-old accomplice Christopher Hendren, broke into Feldman's father's home. Feldman shot elder Feldman, stole money and marijuana, and left the scene.
Younger Feldman said the very beginning of the murder was initialized by him stealing some money from elder Feldman. He recalled his father finding out and physically and verbally abusing him before threatening to kill Jacob. However the abuse began years before the incident.
Admitting some fault into his and elder Feldman's unpleasant relationship seemed to be stated rather easily. Feldman said he began 'running with a rough crowd' and smoking and drinking around the age of eight. He also accepted responsibility for his rebellious actions and lack of acceptance for authority figures.
"I was an out of control kid," Feldman explained. "Somebody would tell me something not to do and I'd turn right around and do it within hours of them telling me not to do it. And it took me going to county to really realize that I should have paid more attention in school, I should've listened, I should've done a bunch of things that I never did and I wouldn't be here."
At odds such as these, the drug addiction played a less than helpful role into the already downward spiraling relationship, said Feldman. Claims indicate he and his father had different addictions. While younger Feldman fixated on marijuana and different kinds of pills, he stated elder Feldman also smoked marijuana, but was into a harder drug as well, methamphetamine.
Jacob Feldman believes he and his father's issues were all but able to be solved. He expressed sorrow and regret for his actions, but when asked if his father was still alive, would their relationship be any different, he responded quickly stating he knew it would never have changed.
Feldman believed after a threat was made from his father against his life just days after a family Christmas gathering, he was in a situation where fear and anger took hold, and he snapped.
"I've always done things on impulse," expressed Feldman, "It wasn't, per say, a pre-planned thing, it was just that night, I mean I was listening to [ya know] country music on the radio and I got, to me, what was a song that hit too hard to me and I went and decided to do what I did because of the simple fact that I was tired of being beat."
After shooting his father, Walter Feldman, in his sleep, younger Feldman, confessed feelings of not only sorrow and regret, but stated he also lives with the constant thoughts and memories of life before that late January morning almost three years ago. Feldman explained how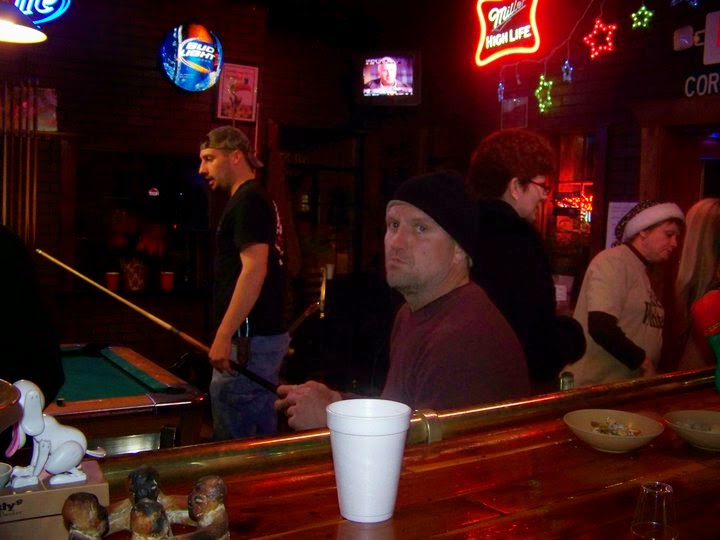 his mother left at the age of three and the years which followed included circumstances of not only the drugs, alcohol, and abuse, but hate filled music and partying by his father.
Feldman believes these instances played a very large role into the development of his mental growth and ability to handle stressful situations. When he was finally jailed on the initial charges and was brought into county jail, Feldman recalled being evaluated by a doctor. During that time, Feldman said he was diagnosed with Bipolar Disorder, Major Depressive Disorder, Attention Deficit Hyperactive Disorder, and an Impulse Control Disorder.
Despite these mental disorders and the abuse, Feldman said he is regretful and that it derives from more than just his anguish of the harrowing, fatal actions he executed, but also the deceitful enactment of life and the lies told before he was arrested, as well as the agony he has created.
"I love my dad with all my heart," Feldman stated during his interview, "There's not a day that goes by that I don't, per say, wish that I could take his place."
Even with these feelings, Feldman knew his punishment was just.
Brent Lockhart, just 15-years-old at the time of the murder, was a mutual friend of Feldman and Hendren. Lockhart said he never would have thought this would be an action Feldman would take.
Lockhart first described what he knew of Feldman's mind set.
"Jacob always talked a lot of crap – he had that middle school mind set," explained Lockhart. "Whenever he got mad at his dad he would always talk about, 'well ya know, next time he beats me or something like this, I'm just going to kill him or beat him up,' or something like this but Jacob had that mind of a little kid. You never knew when he was being serious or when he was loading you full of smoke or anything like that."
Lockhart said with all the irrational scenarios Feldman already played out in his head, Hendren was no help to the situation. He stated Hendren was more like Feldman's leader.
Despite Lockhart's thoughts on Hendren, Lockhart also stated Feldman was a person who on his own, would not be able to be stopped saying quote, "his own conscience can't say no."
While the situation seemed bad enough, Lockhart says he believes the murder of elder Feldman may have been avoidable if people would have asked questions about all the tell-tale signs of child abuse.
"Jacob would get on the school bus with black eyes," Lockhart spoke about his recollection of the abuse. "He'd raise up his shirt and show me where his dad hit him and they were legit bruises, like there's no way he inflicted it on himself or anything like that. I know his dad beat him – his dad had a bad drug history and that's half the reason why Jacob got in trouble all the time because he'd go in his room and steal his dads drugs and then just try to be that cool kid but in all reality it wasn't anything cool [I mean]… it was just dumb."
This whole story played out a little differently for Christopher Dylann Hendren, 20, the young man who witnessed the murder first hand, tagging him as an accomplice in the case.
However prior to his friendship with murderer Jacob Feldman, Hendren had already been through a bit of a rough spot while trying to find his place. Hendren recalled the day he finally asked for help.
"I opened up and told them [family] I think I need to go to the hospital," Hendren explained an incident from some time before the murder of Walter Feldman. "I had signed into a mental hospital and we really sat down, we talked about it, we cried a little, and I realized that I needed help not only with my drug problems but stress management and communication skills."
It wouldn't be too long after seeking medical help until Hendren would meet young Feldman and their friendship would bloom, eventually leading to a place he never thought possible. Hendren said his loyalty to Feldman was partially due to feeling like a protector. The other side of Hendren's dedication to the friendship came from a common understanding of mental imbalances, high strung teen emotions, and the likeness in their family situations.
During his interview, Hendren even recalled his initial thoughts of Feldman being somewhat of a story teller and exaggerator. Hendren said however that after saving Feldman's life during an overdose at one point, he felt the need to be almost like a brother.
Hendren said he began staying with Feldman more and more until that early morning when things seemed off and his loyalty turned into fear.
On the morning of January 23rd, 2012, Hendren stated he began to notice something was different about the way Feldman was acting. He said Feldman did this sort of thing on occasion and he thought it was just for attention but this time the intensity of Feldman's behavior was almost off-putting.
While sitting at Feldman's grandfather's home, Hendren explained how Feldman was messing with a gun and kept asking to go for a drive.  Hendren was resistant as Feldman continued to sway him to go for what he called, 'a ride around town,' until he finally gave into the consistent pushing.
Hendren said he was uneasy about Feldman's behavior, but a specific comment made clear what lied ahead.
"I'm under the influence that we're going to be shooting targets or whatever outside," Hendren detailed the moments before leaving. "So I start to go downstairs, I have my jacket and coat on, and that's when things took a turn for the worse because that's the point when he stopped me and he said, 'You don't understand, we're going to do what I want to do.' And that's when I knew he's got the loaded gun, I don't, I'm not in a position to argue with him."
It was just minutes later when the teens would arrive at elder Feldman's residence.
After breaking into Walter Feldman's home, armed with long rifles, Hendren says his fears were right in front of him and as fight or flight instincts kicked in all he knew to do was keep his finger off the trigger and wait for his chance to run.
"He tells me that he wants me to shoot him," as the crime began to take place, Hendren remembered the seconds just before the murder of elder Feldman. "I told him no, I'm not going to do it, I don't know the man, I don't even want to be here involved in any of this and he kept trying to get me to do it and I told him no. So, he wanted me to stand by him when he did it and when he did I tried to make a run for the door, he turned around and told me, 'You need to get back over here.'"
After the crime was committed, Hendren recalled the minutes that followed and Feldman's repellent reaction.
"This dude just cold blooded murdered his dad and [ya know] he's laughing about it," Hendren expressed his feelings on the eerie and terrifying moments after the shooting. "And I'll always hear the words echoing in my mind, the point where I really thought everything was over for me when I really thought I was going to die, he turned around with the biggest smile on his face and he said, 'He's dead… he's f***ing dead,' and he laughed. He had no remorse for it, he was happy that he did it, he was glad."
The month that followed was one of the hardest in Hendren's young life. He said he didn't know who to go to or where to run. He said he was scared of telling someone and not knowing if they would be left unharmed and he said the thought of another person being hurt along the way was unbearable.
With those thoughts in mind, Hendren maintained his silence. For over a month, he said he didn't reveal details of the horrific incident to anyone.
Despite the position Hendren is now in, he said he believes he did right given the circumstances and the hand he was dealt.
"If I were to die today, having gone through all of this, it would have been for nothing," explained Hendren. "If I were to spend the rest of my life in here, I wouldn't care because I know that I did the right thing and I know no matter how wrong it is that I did what I did, not talking to the cops; I know that the way I went about it nobody else got hurt, I didn't die and that's something that nobody can take from me and because I know that, that's something I never would've changed."
Hendren said to this day, there was something off about the whole situation as well as what followed during the police investigation and court proceedings. He has since motioned for an appeal in his case, seeking ineffective council and investigation flaws.
The teens were brought in for their final interview February 28th, 2012 when they were originally charged with first degree murder. Due to
the statute of limitations recently amended by the United States Supreme Court, ruling it unlawful for a minor to be charged in a crime where the only punishments available are life without parole or a death sentence, the boys were tagged with second degree murder which allowed a sentence of up to life in prison with the chance for parole.
After a couple of years and hours in court, Jacob Feldman would be convicted in the crimes of burglary in the first degree, second degree murder, and armed criminal action, and was sentenced to 55 years' incarceration.
Hendren learned his fate five months later for the same charges. He is currently serving his 30 year sentence at the Cameron Correctional Center.
For the full interviews, click play below:
Jacob Feldman (1st Half)-
Jacob Feldman (2nd Half)-
Brent Lockhart (full)-
Christopher Hendren (1st Half)-
Christopher Hendren (2nd Half)-