RANDOLPH COUNTY, Mo. – A rural Moberly man has been declared incompetent to stand trial for murder.
A Randolph County Judge ordered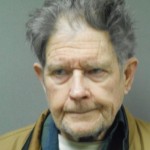 Vernon Head, 81, remanded to the custody of the Missouri Department of Mental Health indefinitely. Head was charged with first degree murder and armed criminal action for the shooting death of his wife, Vickye Head, 71, on December 5th, 2015.
Authorities became aware of the incident when Head went to a Huntsville bank and told an employee his wife had been shot.