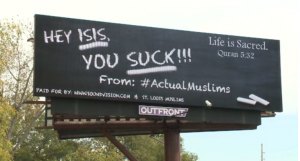 BALLWIN, Mo. — Muslims in St. Louis, Mo., are using their voice and speaking out in an interesting manner.
The billboard reads, "Hey ISIS, you suck!!!' from: #ActualMuslims." The billboard also includes a verse from the Quran that says, "Life is sacred."
According to the St. Louis Post-Dispatch, similar billboards  have begun showing up all over the country and started in Chicago with a nonprofit called Sound Vision Foundation.
The group is a "not for profit organization serving Muslims and their neighbors through developing content on the applied aspect of Islamic living in the contemporary content. It is an Islamic Broadcast Ministry," according to the official website.
According to some local news stations residents say they hope the billboard will change the public's perception that Muslims aren't speaking up against ISIS.