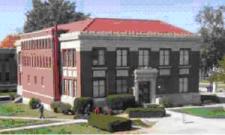 "Journey Stories" a traveling Smithsonian Exhibit, is making a stop at the Missouri Valley College Campus. Library Special Events Coordinator Brian Hampton says the exhibit shows how transportation evolved our society. Click to hear Hampton.
The Smithsonian Exhibit will be on display throughout the month of March at the Murrell Library.
Press Release from Missouri Valley College
Marshall, MO – "Journey Stories," a traveling Smithsonian exhibit, will make a stop at Murrell Memorial Library on the Missouri Valley College campus throughout the month of March.
"Journey Stories" will examine how the development of transportation technology was largely inspired by the human drive for freedom. The story is diverse and focused on immigration, migration, and innovation. It is accounts of immigrants coming in search of promise in a new country; stories of individuals and families relocating in search of fortune, their own homestead, or employment; the harrowing journeys of Africans and Native Americans forced to move; and, of course, fun and frolic on the open road.
Murrell Library received a grant from the Missouri Humanities Council to host the exhibit. Other community partners include Friends of Arrow Rock, the Arrow Rock State Historic Site and Museum, Nicholas Beazley Museum, and the Marshall Public Library.
The library will collaborate with its community partners to offer free programs and other events for the public in connection with the exhibition. Scheduled tours of the exhibit will be held for elementary, middle, and high school students from Saline County. To make a school tour reservation please contact Bathsheba Love at (660‐831‐4180) or visit www.moval.edu for more information.
"The contest allows Marshall an opportunity to add a personal touch to our Journey Stories exhibition," said Brian Hampton, Murrell Library's special event coordinator. "The photos will become part of the exhibit.
Journey Stories is free and open to the public from March 1‐31 during library hours. The opening ceremony will be held from 4‐8 p.m. on March 3.
Other planned activities include oral historian Jim Two Crows Wallen, who will perform two storytelling sessions from 6‐7 p.m. and 7‐8 p.m. on March 10, and a performance by River Ridge String Band from at 7 p.m. on March 29. A guest speaker from Nicholas Beazley Aviation Museum will discuss how the museum grew and the history of its place in Marshall at 7 p.m. on March 31.