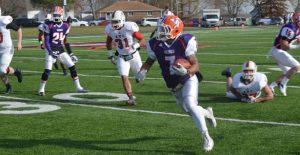 Marshall, Mo. (Press Release)- The Missouri Valley College football team earned an at-large berth into the 2016 NAIA Football Championship Series.  The Vikings open the postseason with a trip to Fort Wayne, Ind., to play University of Saint Francis (Ind.).
Missouri Valley finished the regular season with a 9-2 overall record, and a 4-1 mark in the Heart of America Athletic Conference Southern Division.  The Vikings earned the fifth of six at-large berths handed out for this year's NAIA FCS.  Saint Francis also earned an at-large bid, after finishing the regular season with a 9-2 record.  The Cougars finished as the runner-up in the Mid-States Football Association-Mideast with a record of 5-1.
The Vikings will make the program's 13th appearance all-time in the current edition of the NAIA FCS, and carry an overall record of 11-12 during that span.  Saint Francis appears in the NAIA FCS for the 16th time, and has a record of 23-15.  These two programs met in the first round of the 2011 NAIA FCS at Gregg-Mitchell Field, where Saint Francis came away with a 28-14 win.  Missouri Valley will make its eighth appearance in the postseason under Head Coach Paul Troth.  Troth owns an 8-7 record in the NAIA FCS, with three appearances in the semifinal round.
Two other teams from the Heart earned berths into the NAIA FCS.  Baker (Kan.) University hosts Sterling (Kan.) College and Grand View (Iowa) University travels to play Lindsey Wilson (Ky.) College.
Also Sunday, the final regular season edition of the NAIA Football Coaches' Top 25 Poll was released.  Missouri Valley moved up one spot to No. 11, following Saturday's 31-17 win over MidAmerica Nazarene (Kan.) University.  Saint Francis finished the regular season ranked No. 4.  Four other Heart schools finished ranked, including Baker at No. 2, Grand View at No. 10 and both Benedictine (Kan.) College and William Penn (Iowa) University tied at No. 23.
The first round game will be played Saturday, Nov. 19, at Bishop John D'Arcy Stadium in Fort Wayne, Ind.  Kickoff is set for 12 p.m. EST, 11 a.m., CST.  Check www.moval.edu/athletics during the week for game coverage and ticket information