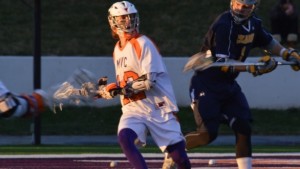 Marshall, Mo. (MVC Press Release)- The Missouri Valley College men's lacrosse team remained in the No. 2 position in the latest edition of the NAIA Men's Lacrosse Coaches' Top Ten Poll.  This is the second-straight week the team has been ranked second in the poll.
The men's lacrosse team enters the week with an 11-2 overall record, including a 9-1 record against NAIA competition.  The Vikings also sit at 5-0 in KCAC play, and captured the program's first KCAC championship with an 18-9 win over the University of St. Mary (Kan.) University last Friday.  The team also earned a 16-3 road win over Creighton (Neb.) University in a MCLA matchup Sunday.
Missouri Valley was ranked No. 2 in the preseason coaches' poll, released in February, but sunk to as low as No. 9 in the National rankings.  The Vikings trail only Davenport (Mich.) University in the coaches' poll.  Davenport has seven first place votes and 119 points, while Missouri Valley has one first place vote and 113 points
So far this season, the Vikings have defeated three teams currently ranked in the coaches' poll.  Missouri Valley has defeated No. 7 Indiana Tech, No. 8 Reinhardt (Ga.) University and No. 10 Savannah (Ga.) College of Science and Arts.  The only loss on the record for Missouri Valley came to No. 9 Lindenwood (Ill.) University-Belleville in the season-opener.
Up next for the Viking men's lacrosse team are a pair of games to close out the regular season.  Missouri Valley will play at St. Ambrose (Iowa) University Thursday at 12 p.m.  The Vikings will then host Senior Day against St. Louis (Mo.) University Saturday at 3 p.m.
The women's lacrosse team remains in the "others receiving votes" for the sixth-straight coaches' poll.  The Vikings have 12 points, down from 27 points last week.  The Vikings are 6-2 on the season and 5-1 in KCAC.
The women's lacrosse team will finish its regular season Saturday with a game at Oklahoma Baptist University at 10 a.m.