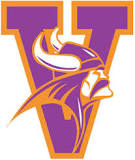 MARSHALL, Mo. (MVC Press Release)- After a 3-0 start to its season, the Missouri Valley College football team moves into the NAIA Football Coaches' Top 25 Poll.  The first regular season poll was released Monday, and the Vikings are ranked No. 16.
Missouri Valley opened its season with a pair of road wins, defeating then-No. 23 William Penn (Iowa) University, 8-7, followed by a 28-3 win over Graceland (Iowa) University.  Saturday, the Vikings defeated No. 15 Benedictine (Kan.) College, 16-10, at home for Family Weekend.  Missouri Valley makes their first appearance in the coaches' poll since Sept. 21, 2015.
Currently, the Vikings are 1-0 against teams ranked in the recent coaches' poll.  The win came over No. 15 Benedictine.  Missouri Valley has three upcoming games against teams currently ranked.  The Vikings host No. 8 Grand View (Iowa) University Sept. 24, play at No. 4 Baker (Kan.) University Nov. 5 and host No. 18 MidAmerica Nazarene (Kan.) University in the regular season finale Nov. 12.  Saturday's opponent, Peru State (Neb.) College is featured in the "others receiving votes" category of this week's coaches' poll.
No. 16 Missouri Valley's game Saturday at Peru State is scheduled for a 1 p.m., kickoff at the Oak Bowl in Peru, Neb.