COLUMBIA, Mo—In America there are 5.3 million people, or 2 percent of the U.S. population, who are diagnosed and living with a traumatic brain injury. A families cost to support a loved one with a disability related to these sort of injuries can exceed $150,000 on average. For the country, this cost jumps to $76.5 million.
Now, with National Brain Injury Awareness month upon us, many health care facilities and associations are taking a
stand to increase the general population's knowledge in regards to the fast growing epidemic.
Click play below to listen to KMZU's Ashley Johnson visit with an intern for the MU Extensions Department at the University of Missouri, Gabe Nicolazzi: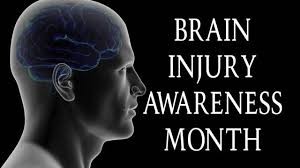 In recognition of Brain Injury Awareness month, Gabe Nicolazzi, an intern at the MU Extensions Department at the University of Missouri, explains what the driving factor is behind this nation-wide month of alertness.
"The goal for this month and every month is to education the general public about the incidents of brain injury and the needs of people with brain injuries and their families." Nicolazzi explained, "So really our mission is to reduce the incidents of brain injury; to promote acceptance, independence, and productivity of people with brain injuries and to support their families."
The rising number of Traumatic and Acquired Brain Injuries are a large cause for concern. Nicolazzi noted in the State of Missouri, there are 118,000 people living with a Traumatic Brain Injury.
"They say that about every 13 seconds someone sustains brain injury in the United States," Nicolazzi recited a few statistics, "More than 50,000 people die each year from a traumatic brain injury, another 280,000 are hospitalized, and 40 percent of these traumatic brain injuries do come from falls."
When transcribing those fall hazards into the Agricultural field, there is a far higher rate than the same type of injury in the transportation, mining or manufacturing industries. According to the Bureau of Labor Statistics (BLS), agricultural workers had a non-fatal, fall-related injury rate of 48.2 per 10,000 workers in 2011. Between 2007 and 2011 the BLS reported 167 agricultural workers' deaths were due to falls.
Due to these high numbers, Nicolazzi noted the cooperation between the university and AgrAbility to provide farmers with education and resources to help get them back on their feet after an accident causing brain injury. To learn more about the Missouri AgrAbility project, an association who works with Missouri farmers who have suffered any type of brain injury, click here.
After learning these statistics, Nicolazzi said there is still so much more information.
A few more details relating to TBI in America:
Traumatic brain injury (TBI) is the leading cause of death and disability in children and adults from ages 1 to 44.
Brain injuries are most often caused by motor vehicle crashes, sports injuries, or simple falls on the playground, at work or in the home.
Every year, approximately 52,000 deaths occur from traumatic brain injury.
An estimated 1.5 million head injuries occur every year in the United States emergency rooms.
An estimated 1.6 million to 3.8 million sports-related TBIs occur each year.
Moderate & severe head injury (respectively) is associated with a 2.3 and 4.5 times increased risk of Alzheimer's disease.
Males are about twice as likely as females to experience a TBI.
Exposures to blasts are a leading cause of TBI among active duty military personnel in war zones.
Veterans' advocates believe that between 10 and 20 percent of Iraq veterans, or 150,000 and 300,000 service members have some level of TBI.
30 percent of soldiers admitted to Walter Reed Army Medical Center have been diagnosed as having had a TBI.
The number of people with TBI who are not seen in an emergency department or who receive no care is unknown.
While the term traumatic brain injury is a generally used phrase for all head related injuries, Nicolazzi said there is a difference between an ABI and TBI.
"ABI is an acquired brain injury," explained Nicolazzi, "It's an injury to the brain that is not hereditary, congenital, present from birth or induced by birth trauma. It kind of results from damage to the brain caused by usually strokes, tumors, anoxia, hypoxia, different toxins and loss of oxygen to the brain."
The more commonly known brain injury is TBI said Nicolazzi.
"TBI is a traumatic brain injury," Nicolazzi stated, "This is the subset of an acquired brain injury and it is caused by trauma to the brain from an external force. TBI's can range from very mild, as concussion, to very severe, like a car accident or another severe blow to the head."
Within these two categories, you will find another 12 sub-categories which include;  Diffuse Axonal Injury (TBI), Concussion (TBI), Contusion (TBI), Coup-contre coup injury (TBI), Second Impact Syndrome (TBI), Open and Closed Head Injuries , Penetrating Injury (TBI) , Shaken Baby Syndrome (TBI) , Locked in Syndrome (TBI), Anoxic brain injury (ABI), and Hypoxic brain injury (ABI).
Click here to learn more about the different ABI's and TBI's.
While some of these diagnoses and facts are well known, much information about brain injuries is just being brought into the lime light due to recent sport related incidents and the movie "Concussion". Nicolazzi said on the sports side of the spectrum, chronic traumatic encephalopathy (CTE), which was formerly believed to exist primarily among boxers and was referred to as dementia pugilistica, is a progressive degenerative disease which afflicts the brain of people who have suffered repeated concussions and traumatic brain injuries. He also noted CTE is only able to be diagnosed after someone is deceased.
To learn more about The Brain Injury Association, visit www.BIAMO.org or the Facebook page at facebook.com/bia.missouri.
Local farmers who are suffering from or know someone who is living with a traumatic brain injury are encouraged to visit agrability.org or call 1-800-825-4264.