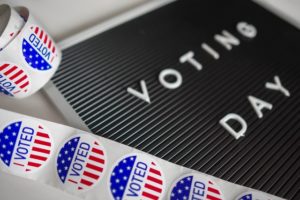 JEFFERSON CITY —   On National Voter Registration Day, Missouri Secretary of State Jay Ashcroft is urging resident to register to vote or verify their registration.
"If you're already registered, make sure to verify your voting information. It's essential that every Missourian has the opportunity to make their voice heard on Election Day," Ashcroft said in a Tuesday press release.
Missourians can visit www.GoVoteMissouri.com to register, check their registration status or get more information about registering to vote. In order to register, you must be a U.S. citizen, a Missouri resident and 18 years old by the day of the election. The deadline to register for the Nov. 3 election is Oct. 7.
To be eligible to vote by absentee ballot, individuals should contact their election authority, typically their county clerk, to request a ballot. Voters can find their local election authority by visiting this link.
Those who are eligible for absentee ballots include:
Individuals who are at higher risk of getting sicker from COVID-19 with any of the following conditions: age 65 or older, live in a long-term care facility, chronic lung disease/asthma, heart condition, immunocompromised, diabetes, chronic kidney or liver disease. With these conditions, voters are not required to have their ballot notarized.
Religious beliefs or practice
An election worker
Incarcerated, if still eligible to vote
Absent on Election Day. These four excuses require a notary, which is cost-free.
Mail-in ballot requests are for individuals who do not want to vote in person and cannot claim any of the above excuses. The ballot envelope must be notarized and be mailed. Absentee ballots do not need to be mailed. They can be hand-delivered to the election authority.
Click here for a step-by-step guide on how to request an absentee or mail-in ballot.
Ashcroft is traveling around the state Sept. 21-24 to meet with local officials, media and voters to promote in-person voting and the 2020 absentee and mail-in voting options.
Tuesday, Sept. 22, also marks the beginning of the absentee voting period. Eligible Missourians can vote absentee in-person at their local election authority through Nov. 2 at 5 p.m. Absentee and mail-in ballot requests must be received by local election authorities no later than Oct. 21. Visit this link for an overview of voting options for the Nov. 3 election.