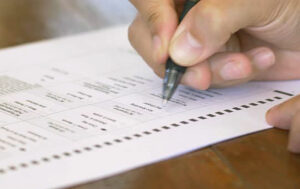 MARSHALL — With 18 days left to the Nov. 3 General Election, Saline County is seeing more absentee ballot requests than the 2016 presidential election.
So far, the Saline County County Clerk's office have received 989 absentee ballot requests — many online — for this election, compared to 831 in 2016. Of those for this year, 808 have already responded.
"That's a lot. That's a record from what I can find," Saline County Clerk Debbie Russell says.
The vast majority are utilizing the COVID-19 excuse to vote absentee, the county clerk says. That option was adopted by the state legislature earlier this year. She's only received one mail-in ballot request, which requires a notary on the ballot envelope.
"About 60 percent of what we're getting in are Covid related," Russell says. "So, Covid has brought out some that would not have voted, happy to have that option. It does not require a notary."
Other entities are sending out applications for absentee ballots by mail — some with errors, including one from Gov. Mike Parson, which had the incorrect voter's name on the application, according to Russell. That has created some confusion and concern.
"As much as I appreciate others sending out things, this is a hardship for us, but we got a lot of checks and balances in place," she says. "First of all, we have signatures on file, social security last four digits, the current address, and the overall appearance of the ballot. So we really do pay special, special attention when we get those requests. If we have question, we call the state and get assistance. We've only had one that we had questions, though."
The last day to request an absentee ballot is 5 p.m. Oct. 22.