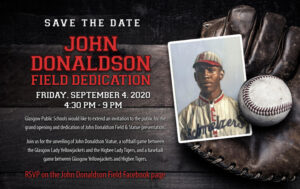 GLASGOW — An African American baseball pitcher,  whose career stretched from 1908 to 1940, will finally receive his recognition thanks to the Glasgow School District and The John Donaldson Network.
John Wesley Donaldson, born in 1891 in the Missouri River town of Glasgow, had a gift in the sport of baseball.  During his teenage years, he played for the Missouri Black Tigers of Higbee and the Hannaca Blues, an all-Black team from Glasgow. Later, he not only pitched in the pre-Negro League, but also the Negro League and several semi-pro teams, including the All Nations team and the illustrious Kansas City Monarchs.
His post-Negro League career was even more impressive, as Donaldson was at times the only African-American player on an otherwise all-white baseball teams. Prior to Jim Crow laws, between 1918 and 1920, Donaldson took part in several games in different racially-divided states. Even during extreme segregation, historians says crowds flocked to see him pitch. Kansas City Monarch's Satchel Paige is perhaps the most well-known from this time, but according to sports historians, Donaldson was of his caliber. Some even call him the greatest pitcher of his era, during his 30-year career in baseball.
On September 4, Glasgow Public School District will honor the hometown hero with a field dedication and statue unveiling. Superintendent Sonya Fummeler tells KMZU how the project started.
John Donaldson is, she says,  "… kind of an unsung hero. Lots of research has gone into his history and learning more about him. The John Donaldson Network has done a lot of work getting him the recognition he deserves. He's isn't known by a lot of people and that's part of our goal … to spread information about Mr. Donaldson and about what a fantastic player he was and get his name out there."
Mr. Donaldson passed in 1970, at the age of 79, but some family members remain in Glasgow and will take part in festivities.
The unveiling of the statue and field dedication will take place Friday, September 4. However, project organizers came up with  a series of events to keep the community entertained  both Friday and Saturday.
Anyone wishing to attend the festivities is invited. The standard gate fee is that of a regular high school game in Glasgow. Organizers have also ensured the events can be viewed online for those unable to appear in person. All who plan to show are asked to adhere to CDC social distancing guidelines. Sonya tells us more.
To serve as mementos, commemorative softballs and baseballs will be sold during the event. Fummeler also says regular concessions will also be available at the field.
Funds earned through sales of the stamped softballs and baseballs will most likely go to two different places. Fummeler explains.
The superintendent says she is proud of the hard work and dedication of all of those involved in the John Donaldson field dedication and statue presentation. She says finishing touches are being added, just days before the event is set to take place.
More information about this event can be found on the John Donaldson Field Dedication Facebook page.