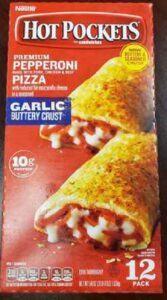 WASHINGTON, D.C. — Nestlé Prepared Foods, is recalling over 762,000 pounds of not-ready-to-eat pepperoni hot pockets product that may be contaminated with extraneous materials, specifically pieces of glass and hard plastic.
The frozen pepperoni hot pockets were produced from Nov. 13, through Nov. 16, 2020. The product has a shelf life of 14 months. The following product is subject to recall:
54-oz packages containing 12 "Nestlé HOT POCKETS BRAND SANDWICHES: PREMIUM PEPPERONI MADE WITH PORK, CHICKEN & BEEF PIZZA GARLIC BUTTERY CRUST" with a "BEST BEFORE FEB 20-22" date and establishment number "EST. 7721A" inside the USDA mark of inspection.
The product was shipped to retail locations nationwide.