Click below to hear KMZU's Andy Campbell speak with UV Sanitized Co-Owner and Business Development Director Cody Smith:

Imagine a world where dangerous infections from lingering bacteria would become nearly impossible. A new technology using UV rays is creating a new frontier in hospital sterilization.
UV Sanitized is a new company, still in its early months. The purpose of the company is utilizing this technology to offer small health care businesses the opportunity for complete sanitation.
Cody Smith is the company's Co-Owner and Business Development Director. He says this technology harnesses generates different bands of UV light created by the sun.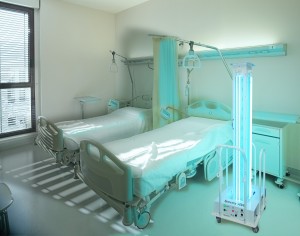 Harmful bacteria known as "super bugs" currently reside in hospital rooms. These "super bugs" are resistant to anti-bacterial cleaners, making them difficult to eliminate.
Smith says these "super bugs" are the culprit of most health care acquired infections.
UV Sanitized currently services smaller health care facilities including surgery centers and skilled nursing facilities. Smith adds he hopes to see the company eventually expand to continue providing sanitation services to more facilities.
For more information on UV Sanitized and their services, visit www.uvsanitized.com.