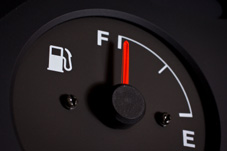 To the disdain of the American Petroleum Institute (API), the Renewable Fuels Association (RFA) has declared the 10% ethanol "blend wall" to be broken. This claim comes from data released from the U.S. Energy Information Agency.
Ethanol made mainly from corn was found in 10.4% of gasoline in 2016. In early January, ethanol hit a record of 10.41% of fuel volume.
According to Ag Fax, blend wall is a, "symbolic cutoff between the renewable fuels industry clamoring for higher market share, and the petroleum industry that has fought protectively to keep biofuels from taking a higher share of the consumer fuels market."
The API has released information that ethanol can no longer claim a larger piece in the gasoline market. The API claims that more ethanol added would not be safe for vehicles on the road.
The API is currently urging the Trump administration to change current energy policies dealing with mandatory ethanol levels.