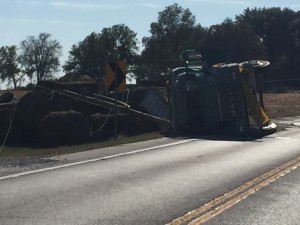 UPDATE:  According to Missouri State Highway Patrol, the accident has been cleared.  The non-injury status of the accident was confirmed.  Patrol says KCP&L has been notified and Highway 65 is open to traffic.
SALINE COUNTY, Mo. — An accident just after 3:30 p.m. Thursday has traffic slowed on 65 Highway in Saline County.
According to the Missouri State Highway Patrol, a semi-truck hauling hay overturned on the highway just south of Grand Pass. Reports from dispatch indicate the accident was a non-injury, but traffic has been reduced to one lane.
People in the area have reported utility lines are down and power is out for various residents.
The Highway Patrol is urging motorists to find an alternate route if possible. KMZU will bring updates as more information is made available.