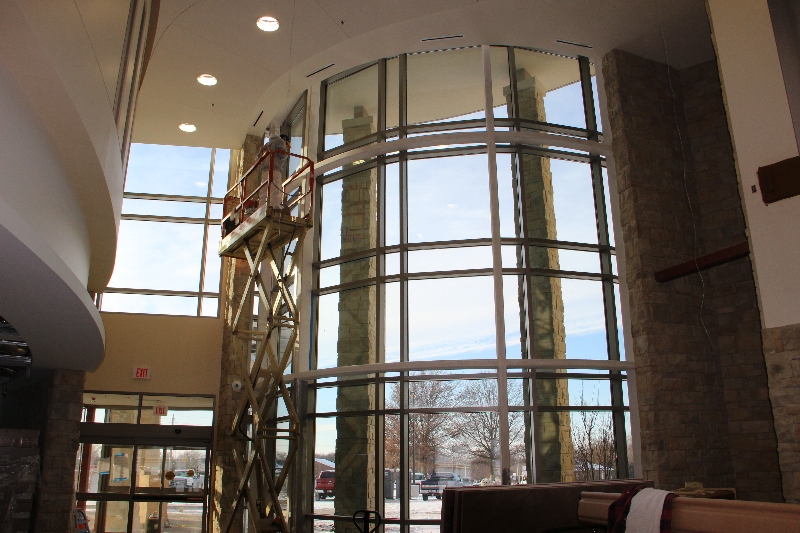 Progress is being made, and equipment is already being moved into the new Hedrick Medical Center in Chillicothe. Click to hear KMZU's Sarah Scott speak with CEO Matt Wenzel:
Crews  are on track to open the new facility in mid-February. "There's just a few touch-up items. So there's some area that need touch-up paint. There are a few areas that we need to place ceiling tiles in. But, for the most part, we're about 95 percent complete," said Wenzel. "On the outside, they still have to do some work in the parking lot. So people may see them striping spots in the parking lot. But for the most part, like I said, it's pretty much complete."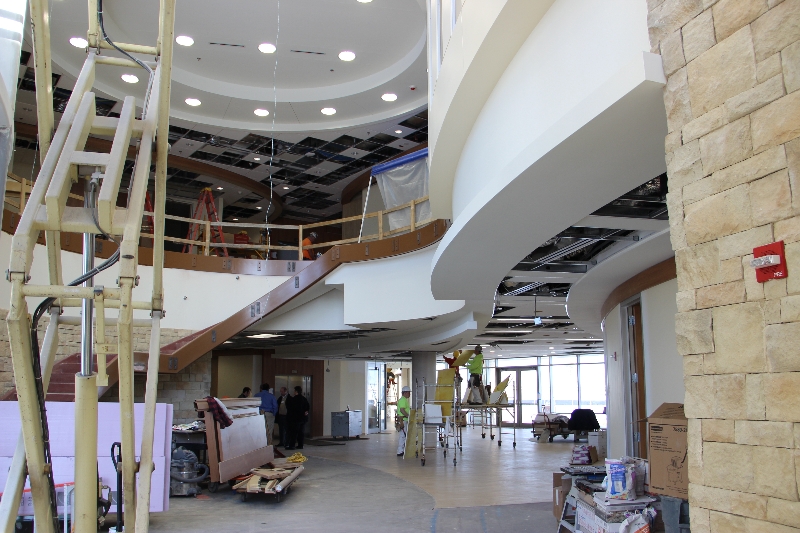 Patrons will see some new technology once the hospital is open.
"We're excited to be the only ones in the area to be able to offer 3D mammography. And so, that technology is a step up from 2D or digital mamography. In the new facility we'll be able to offer 3D or digital mammography. The only places in this are that offer that technology are Columbia, a few places in Kansas City, Omaha, or Des Moines. So we're quite pleased to be one of the few facilities to be able to offer that."
The new mammography machine was made possible by a $100,000 grant from the Livingston County Community Foundation.
A ribbon cutting ceremony will held on the January 23rd. Patients will be able to use the new facility starting February 13th.
Press Release from Hedrick Medical Center
The holidays are here, which means time with friends and family certainly; and for those of us at Hedrick Medical Center, it means that very soon we will be moving into the new Hedrick Medical Center. Things are really coming together quickly, and a lot has happened since my last update.
The final touches are being placed on both the hospital and the Medical Plaza. Concrete work is complete, exterior work is very near completion, and interior work is getting closer to being finished each day. Flooring is 95 percent complete, with the final touches happening currently. Doors are hung and hardware is being installed. The facility has become fully enclosed. You'll notice that signage is going up, though we've covered up some signage so folks know the new facility is not yet open.
As we look toward the next few weeks, parking lot spaces—including the handicap spaces—will be striped and marked; all mechanical equipment is being final tested and balanced; medical equipment orders have been placed; and we are starting to see some of the major equipment being installed, including operating room suite lights, sterilizers, and radiology equipment, just to name a few. Final inspections are being scheduled with the State of Missouri and the city fire chief. The City of Chillicothe is conducting its final inspections on elevators, fire alarms, kitchen hood systems, and boilers. Final touches will be going on through the end of December, while furniture and more equipment will be placed in January. While the majority of the project is right on schedule, weather has unfortunately hampered us some in regards to the landscaping. Since spring is the best time to plant, some of it has been delayed until spring.
We are preparing the new hospital and Medical Plaza for opening on Feb. 13, 2014. Transition and occupancy planning is underway and coordination efforts with EMS are taking place in preparation for patient move day. We will also be providing the community with a preview of the new facility on Thursday, Jan. 23 at our Open House. The ceremony and ribbon cutting will start at 2 p.m., and self-guided tours of the facility will be available after the ceremony until 7 p.m. We'd love to see you there as we open a new chapter in health care in Chillicothe.
We've got a lot going on in preparation for the move and before we know it, all the hard work and dedication of our staff over the past couple years will come to fruition as we close down our current facility, and open up the new one. The City of Chillicothe continues to be a phenomenal partner in this journey, and I know Mayor Haney, City Administrator Holland, and the City Council are all just as excited as I am.
As I've mentioned before, this facility is for you, and we feel that you will be very pleased. We will have a state-of-the-art facility, with state-of-the-art technology, including the area's only 3D mammography. And of course, I truly believe our employees are already state-of-the-art, and that certainly won't change.
As always, feel free to visit the project website, www.healthychillicothemo.org, for more information on the project. You can view updated photos of the facility, watch a video animation of the facility rendering, and stay up-to-date on project news. We look forward to seeing you at the ribbon cutting. Until then, happy holidays from your family at Hedrick Medical Center.
Sincerely,
Matt Wenzel, CEO, Hedrick Medical Center, and our partner, the City of Chillicothe