Heather Leidy is an assistant professor in the Department of Nutrition and Exercise Physiology at the University of Missouri School of Medicine. She recently spoke with KMZU about the benefits of eating a health breakfast, which includes high-protein foods.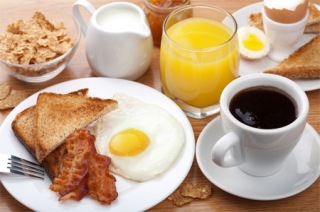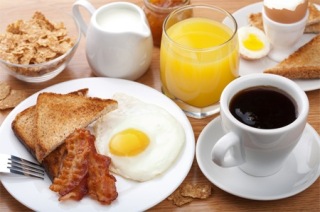 COLUMBIA, Mo. — For years, researchers have debated the importance of breakfast. The meal is widely accepted as "the most important meal of the day," but very few have provided evidence to the reason.
The University of Missouri School of Medicine stated in a release nearly 60 percent of people skip breakfast on a regular basis. For years, researchers stated eating a healthy breakfast reduced a child's chance of obesity, but very few scientists could offer a reason.
A new study, published by the Department of Nutrition and Exercise Physiology, suggests a high-protein breakfast is the key. The study examined several "high-protein" breakfast foods, and their effects on body fat, glucose levels and appetite.
"You look at the research right now, and a lot of them are correlational data," explained Heather Leidy, assistant professor with the Department of Nutrition and Exercise Physiology. "However, there's only a handful of studies out there that have really been intervention based studies to really look at a causal effect for breakfast or breakfast skipping."
Leidy said these "high-protein" foods can include anything from eggs to lean meat, however the diet does not include bacon.
"When I start talking to people about higher-protein breakfast, most people will say, "oh well that means I can have bacon everyday,'" Leidy said. "The biggest thing that people need to remember is that, while bacon taste good, it is not a high-protein food."
The study was conducted by feeding two different groups of overweight teens who reportedly skipped breakfast between five to seven times per week. One of the two groups was fed a breakfast containing a typical amount of protein, the others were fed an increased amount of protein.
According to Leidy, the group that ate the higher protein breakfast voluntarily ate less food throughout the day.
"What we know is whenever you can maintain your sugar levels throughout the day, it reduces your risk of eventually progressing into Type II diabetes," Leidy said. "When you have that, that's higher in protein, you get this maintenance, if you will, of glucose."
The study revealed participants that were fed the high-protein breakfast consumed nearly 400 fewer calories everyday than participants in the other two groups. Leidy said the health benefits include lower body weights, which means a decrease in child obesity, and an oppressed feeling of hunger.
Leidy said the information will be used in the future to continue fighting the progression of chronic illness in young people.
"Obesity, unfortunately, is still progressing," Leidy said. "We know that in kids and adolescence it is still on the rise, and with that you have associated other health complications … It is an ongoing concern, so what we try to do is develop strategies to target that."