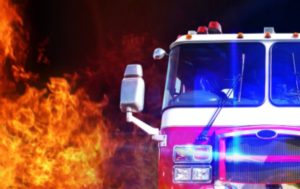 CHILLICOTHE — The first meeting of the newly-formed Chillicothe Rural Fire Protection District No. 1 will be 7 p.m. October 6 to organize its elected board and discuss funding options. Voters in August approved the fire protection district and its five-person elected board, but voted down a property tax to fund it.
Three weeks later, Judge Daren Adkins affirmed the voters' decision to create the district and elect board members Chris Bonderer, Darrell Wright, Ed Daugherty, Bruce Brodmerkle and David Morris.
The vote for the district was 576 in favor, 441 against. The numbers nearly flip-flopped to deny a 30-cent per $100 assessed valuation on property tax to fund the district: 580 voted no; 441 voted yes.
Daughtery tells KMZU funding from the previous fire association ends in April 2021. He expects discussions to include placing a levy before the voters in 2021.
The fire association received approximately $85,000 in income in 2019-20 from annual dues, set at $150. A 30-cent per $100 assessed valuation would bring in a little less, proposed at $81,000. Daugherty says he's done the math, and for him, his property tax would be $82.11.
Funding would pay for contract services with Chillicothe Fire Department to staff and house district fire equipment, he says.
The meeting will take place at the Chillicothe Fire Department and is open to the public.