JOHNSON COUNTY, Mo. – Investigators from Colorado are comparing notes about a woman set on fire during a robbery in Johnson County last Sunday.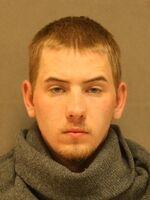 Investigators say there may be similarities with a homicide near Bailey Colorado in December of 2017. The remains of Maggie Long, 17, were found after her family's home burned down. Several items had been taken from the home before it was set on fire. A white male in his early 20s was seen in a light-colored minivan in the area. Vincent Rist, 22, and Antonio Bowen, 24, were taken into custody in Johnson County, after the victim escaped her bonds and extinguished the flames.
The Colorado Task Force have a police sketch of their suspect that appears to be similar to Rist's mugshot.