CARROLLTON (KMZU) - Winter weather is officially here in the KMZU listening area. A Winter Storm Watch is currently in effect until Friday afternoon, and a Wind Chill Warning lasts until noon Saturday. Two to four inches of snow and wind chills as low as 35-degrees below zero are expected in the region, and high winds makes road visibility significantly limited.
Additionally, MoDOT Wednesday announced that due to a shortage of drivers, crews will not provide snow removal on secondary routes until all primary routes are clear, making traveling for the holiday weekend even more complicated.
When there's a major snowstorm is in the forecast, nothing more important for your safety and the safety or others than the decisions you make while driving. Avoiding a non-essential trip during a snowstorm might not only prevent a traffic crash, but it can also allow road crews to clear roads more quickly and keep you from becoming stranded.
Before hitting the road, decide whether the trip is necessary. If you must drive when it's snowing, here are some safety tips from the Missouri State Highway Patrol.
· Follow the local weather forecast and traffic reports. Plan travel during times when snow or icing are not in the forecast. Avoid unnecessary travel.
· Check MoDOT's Traveler Info Map for road conditions.
· Allow extra travel time and expect delays.
· Reduce speed and increase following distance. Drive based on conditions, NOT the posted speed limit.
· Focus 100 percent on driving because you have less control of your vehicle and less visibility. Use your headlights to increase your visibility to other drivers.
· Understand that bridges and overpasses often ice over sooner than other parts of the road.
· Place an ice scraper, battery booster cables, blankets, extra coats, gloves, water, non-perishable food, flashlight, and a bag of sand or cat litter in your trunk.
· Keep you gas tank at least half full.
· Travel with a fully charged cell phone. Park your vehicle before calling if you need help. *55 on a cellular phone connects you to the closest Missouri State Highway Patrol headquarters.
· Clear your vehicle's windows completely before driving to ensure visibility.
· Never overreact or slam on the brakes. If you begin to slide, steer in the direction of the slide to regain control of the vehicle.
· Understand 4-wheel-drive vehicles may provide extra traction to get a vehicle moving in snow, but they are not better at braking or handling turns.
· If you must travel in a snow storm, let others know about your route, destination and estimated time of arrival.
· If you become stranded in deep snow and are idling the engine to keep warm, be sure to keep the area around the tailpipe clear to avoid carbon monoxide poisoning inside the vehicle. Also, open a window slightly to let in fresh air.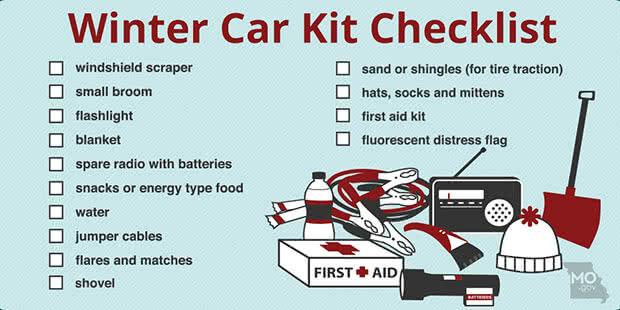 If you find yourself in a situation in which you become stranded, staying in your vehicle is often the safest choice if winter storms create visibility so poor that you can't see or if roadways are ice covered. These steps will increase your safety when stranded:
· Tie a brightly colored cloth to the antenna as a signal to rescuers.
· Move anything you need from the trunk into the passenger area.
· Wrap your entire body, including your head, in extra clothing or blankets.
· Stay awake. You will be less vulnerable to cold-related health problems.
· Run the motor (and heater) for about 10 minutes per hour, opening one window slightly to let in air. Make sure that snow is not blocking the exhaust pipe-this will reduce the risk of carbon monoxide poisoning.
· As you sit, keep moving your arms and legs to improve your circulation and stay warmer.
· Do not eat unmelted snow because it will lower your body temperature.
· Huddle with other people for warmth.