Full Newsmaker by KMZU's Brian Lock:

CARROLL COUNTY, Mo. –Voters in Carrollton and Hill Township will head to the polls during a special election on August 8 concerning taxes for roads and transportation.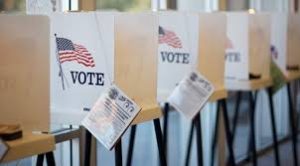 Carrollton will vote on whether to raise sales tax one half of a percent, with the tax going toward construction, reconstruction, repair and maintenance of streets, roads and bridges in Carrollton. The tax will be deposited into a special fund known as the "City Transportation Trust Fund".
Hill Township will be having a vote on whether to have an additional 35 cents on the 100 dollars valuation for a period of four years, a continuation of the current road tax.
Both tax issues failed during the April 4 Municipal Elections.
Peggy McGaugh, the Carroll County clerk, explained that Carrollton and Hill Township residents have until July 12 to register to vote.
In Carrollton, only people within the city limits will be voting on the sale tax increase; no rural people will be voting. Voters will be able to vote in the the basement of the Carrollton Library and the Root Center. Hill Township voters will vote at the Tina Community Hall.
Absentee voting is open and anyone who is a registered voter can request an absentee ballot by sending in an application by mail or in-person at the Carroll County Courthouse during regular business hours. The last day to request an absentee ballot is August 2 and they will be accepted until Monday, August 7, at 5 p.m.
"If you were a voter up until now, you can still vote." said McGaugh, in response to the new photo ID voting law, known as Show It 2 Vote. Any government-issued photo ID is acceptable.
If someone does not have a government-issued voter ID, they can still vote by providing identification proof, so long as they are in the voter registry.
KMZU's Erin Achenbach and Brian Lock contributed to this report.