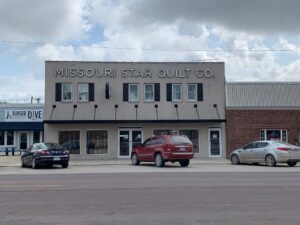 HAMILTION — It's the romantics of small-town living wrapped in the highest quality fabrics.
Located in Hamilton, the Missouri Star Quilt Company is a fabric store that has expanded into a 12-store mini universe known as Quilt Town. In addition to the main building, some of the stores include Missouri Star Mercantile, Primitives and Wool, and Licensed to Sew. Weaved in with the shops are local business and restaurants that are punctuated by murals. Walking up and down the sidewalk is a cozy enough feeling to make you feel as though you are a guest in someone's home rather than a consumer. The scene is something that looks as if it were meant to be in a sugary sweet holiday movie.
Even when Quilt Town is a ghost town, the excitement is infectious.
Due to the pandemic, an executive decision was made to close the shops through the holiday season and reopen in the spring. A large influence in a small town, the company juggled with the right way to handle business during such a time. KMZU was unable to get into contact with any city officials, however MO Star Quilt Marketing Director Gerry Vire says the decision-making process for started as early as March 1.
"We started talking with local officials, state officials and obviously watching what the CDC was putting out," Vire says. "We made the decision mid-March that we were going to close our shops, retreat center and education center temporarily to see what was going to become of all this."
While the company was handling business, Caldwell County reported its first COVID-19 case on March 31. The first death was reported on July 10. Currently, the county has seen a total of 125 positive cases, with two deaths. As cases were monitored and knowing the core audience is mostly people who are older and at risk for contracting the virus, the final decision was made in mid-June to extend the shop's closure.
"It wasn't a decision we took lightly," Vire says. "We're a destination in the quilting industry; it's not just those from Kansas City or surrounding Hamilton. For the safety of our community, our employees and customers we just felt it was the right thing to do to close until the spring of 2021."
Through various departments and the warehouse and stores, the company employs around 400 people. While the stores are closed, Vire says no employees have had to be furloughed and all the in-store employees have been able to be placed somewhere else.
"Those folks that have worked in our shops we found positions in the warehouse for them," Vire says. "We know we're fortunate. We know a lot of big companies in the country haven't been, but it's something we're proud of that we haven't had to get to that level of that extreme."
Missouri Star Quilt Company's business during the pandemic is an interesting case. While some businesses began to struggle, or even close, due to shutdowns and restrictions, Missouri Star Quilt has only been on the uptick. Vire says that as a quilting company, the quarantine has help draw in more business from existing customers and attract new ones.
Online traffic makes up the vast majority of sales, according to Vire. This isn't surprising, since the company was built from founder Jenny Doan's quilting tutorials on YouTube. The channel is still very much active, with nearly 700,000 subscribers. Vire says that although Doan would normally be traveling and doing quilting events, she has utilized her time at home to create more content.
"Jenny's been more in Hamilton since COVID started and she's been producing more content," Vire says. "We've been producing more content as a company. When the need for face masks came up, we did a face mask tutorial – we actually did two. We got about half a million hits on the first video and it was simply a tutorial on how to make a face mask. We've just been trying to make our online experience the best that it can."
In the meantime, the shop isn't going to stay completely dormant while its closed. Vire says that since the company grew so rapidly, there hasn't been much downtime for some separate project. Vire there are plans enhance not only the stores, but the customer experience.
"We're looking at all of the stores to remodel in some shape or form and we will be adding one new store," Vire says. "It's going to be a different kind of experience and a different kind of event when they come back because we are reopening a place that a lot of customers come to. It's going to be a really cool celebration when we do open up."