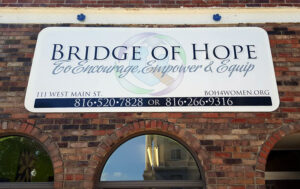 RICHMOND — Connie Taylor, Executive Director of Bridge of Hope in Richmond, worked at a Liberty women's center back in 2010. It was during this time she saw women struggling to afford the care they desperately needed during pregnancy and the first couple of years following. At times, she says, those women couldn't even afford the gas in their vehicles to get to scheduled health examinations and tests. Seeing those difficulties struck a cord in her: Bring hope and services locally to Ray County area women and children in need.
Taylor considers herself — as well as her volunteer staff — as advocates for the family. Taylor elaborated on what that statement really means to her and the Bridge of Hope family.
The non-profit provides testing, as well as other free services to all expectant mothers or mothers with children up to the age of 2. The organization has helped drug- and alcohol-dependent mothers, pregnant women with no insurance and mothers who have a hard time diapering and clothing their babies. Bridge of Hope relies solely on donations and volunteers to provide free services to clients, Taylor says.
Taylor says she believes no pregnancy is a crisis. Those who are under duress, due to a pregnancy or situation with an infant or small child, can reach out and call her organization.
Partners of women who are pregnant, who'd like to learn to be husbands or fathers are also welcome at Bridge of Hope, another example of how the organization advocates for family.
Taylor says her  thoughts never wavered from those she aims to help.
The organization moved to a larger location at 111 West Main Street, on the west side of Richmond square, in June.
For more information, contact Bridge of Hope on its 24-hour hotline number, 816-266-9316, or go to the Bridge of Hope website.