WASHINGTON, D.C. — Senator Claire McCaskill has major concerns about the effects of a renegotiated or cancelled North American Free Trade Agreement. That's according to Senator McCaskill herself, who was able to chat with KMZU's Brian Lock in this week's edition of the KMZU Capitol Conversation.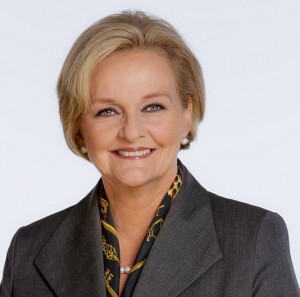 Click below to hear their conversation, which aired Thursday on KMZU.
McCaskill met recently with the U.S. Trade Ambassador, Robert Lighthizer, regarding the ongoing renegotiation of NAFTA. McCaskill said she is worried because  any implications of NAFTA, which many farmers rely on for access to the Canadian and Mexican markets, will have an out-sized impact on Missouri.
"I tried to explain that do-no-harm really is what is applicable here because agricultural commodities in Missouri, our number 1 export is to Canada and our number 2 is to Mexico," Senator McCaskill explained of her conversation with Mr. Lighthizer.
"I specifically talked to [Mr. Lighthizer] about the large purchase of wheat Mexico just made with one of the South American countries," "I was very candid with him. I said, 'it's hard for me to believe you're going to get a new deal before the Mexican elections."
The political situation in Mexico, in McCaskill's view, makes it impossible for a successful renegotiation of the landmark Clinton-era free trade agreement. NAFTA was a contentious issue during the 2016 presidential campaign, with now-President Donald Trump famously calling NAFTA "the worst deal in history."
NAFTA, however, provides access to a global market for farmers and producers. America's agriculture backbone relies on that access to markets in Canada and Mexico, the Democrat from Rolla explained.
"If there is a new deal, if they are not careful, I'm worried that ag is the sector of the economy that could get hurt the worst, and obviously if they tear up the old deal, then I think that there really is going to be a problem," McCaskill said.
"So, listen, I want better deals. I think it's great that we should try to get better trade deals. But I am very protective of Missouri agriculture, and I'm very worried."
McCaskill said that despite her concerns, she did not receive any reassurances from Lighthizer regarding NAFTA.
"It's almost as if the administration is willing to pay a price in agriculture in order to do more with, for example, automobile manufacturing. That's not a good trade-off," McCaskill asserted. "We should not allow agriculture to be harmed in the process. I hope I'm wrong – but that's what it feels like from where I sit now, because I got no reassurances from the trade ambassador about agriculture."
The future of NAFTA, however, is not the only issue currently being discussed in the halls of Congress with an outsize-impact on rural Missouri. According to a report released by the Federal Communications Commission (FCC) in 2016, nearly 40 million Americans lack access to any kind of broadband access, high or low speed, with more than 30 million of those Americans living outside urban areas.
President Trump campaigned aggressively for infrastructure reform, often reiterating his belief that broad, bipartisan support for infrastructure revitalization legislation would come easily. McCaskill said she supports infrastructure revitalization, however offered a small caveat.
"I am optimistic for that if we can get the rules written for this auction that's going to occur next year, there's going to be several hindered million dollars worth of activity that can occur in Missouri for rural broadband deployment. And if the rules are written appropriately, then our rural co-ops are going to be able to compete. To me, that makes the most sense."
McCaskill is referring to to the Connect America Fund Phase II Auction, in which swathes of rights to broadband and data services will be sold to the highest bidders. The sale is set to take place sometime in 2018.
"[Rural co-ops] understand the business model of rolling out services down that last mile. We watched them do it effectively and efficiently with electricity, they can certainly do it with broadband," McCaskill explained. "As long as the rules are written in a way that are fair and they can compete, I think that is our best chance of deploying a massive amount of rural broadband in Missouri in a relatively short period of time."
Rural broadband has been much-discussed among state and federal lawmakers alike for years with little-to-no movement on the issue. Whether or not passing legislation to pour more than $1 trillion into the nation's infrastructure will be as easy as President Trump believes is yet to be seen. For her part, McCaskill sees a path forward, but only with a level playing field.