MISSOURI — Thanksgiving is the busiest time all year long for Americans to hit the road. That means some drivers may need a refresher in holiday driving safety.
KMZU's Brian Lock was able to chat with Sgt. Eric Brown, Public Information Officer for Troop B of the Missouri State Highway Patrol, about some tips to ensure you and yours get to your destination safely and on time this Thanksgiving.
Click below to hear their conversation, which aired Tuesday on KMZU.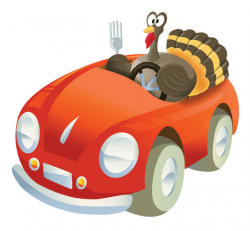 More people travel during the Thanksgiving holiday than any other time of the year, according to the Missouri State Highway Patrol. Missourians will hit the Show-Me state's roads in droves this week, and Sgt. Brown is reminding drivers to be vigilant.
"We expect a large number of vehicles to be traveling over this holiday," Sgt. Brown said. "The Thanksgiving holiday period is usually the largest traffic volume we experience throughout the year, especially the Wednesday before Thanksgiving and the Sunday after Thanksgiving."
"Really, any time on Wednesday after about lunch time, the traffic begins to pick up. So there's no real solid time that you can drive to experience less traffic."
Returning home on Sunday may be a bit less of a headache for motorists, but traffic will still be heavy well into the evening.
"On Sunday, it's a little bit different. We see people leaving earlier in the morning, traveling throughout the evening hours as people return to their homes. The volume on Sunday isn't as bad as it is on Wednesday, especially on Wednesday evening," Brown explained.
Brown went on to say that planning ahead and making sure your vehicle is roadworthy is an important part of getting to your destination safely and in a timely manner.
"Be sure your vehicle is roadworthy. Be sure the fluids are full, everything is functioning like its supposed to and you have good tires." Sgt. Brown added. "Pre-planning your trip is a very important thing to do. Know the route you are going to travel and check the weather . . . That can also help you know what times you should travel for safety."