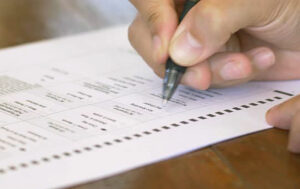 CHILLICOTHE — With only weeks left until Election Day, Livingston County Clerk Sherry Parks says she has noticed a shift in attitudes toward politics and the idea of voting this year.
"It's important to everybody, it seems like," Parks says. "It is not just elderly, middle-aged, younger adults, it's everybody showing interest."
This election season is particularly different as it is in the middle of a pandemic. How to modify the election to keep voters safe has been a topic of concern for many, which has paved the way for absentee and mail-in voting to become a much more viable option for some people. At the time of the interview, the Livingston County Clerk's Office had received 508 applications for an absentee ballot and 319 filled ballots. Parks says she expects the office to get busier as the election draws closer.
"We had a lot at the very beginning and then we kind of slowed down," Parks says. "It's just hard to tell. I believe it's just going to get busier."
While taking a drive into Chillicothe, it's hard not to notice the campaign signs as you drive into town. Parks says people's heightened enthusiasm for voting along with some hotly contested races in the area could contribute to a higher voter turnout than usual.
"Just because of all of the attention and the tone of the country and everything that's going on I do believe we'll have a good turnout," Parks says. "We usually have anywhere from about 65 to 73% so I project it will be in the mid- to upper-70s, if not more."
Demographics are an important part to understanding voting trends and voters themselves. Parks says that in her estimation for voter turnout, she is expecting all age groups to show up.
"You know, it's everybody," Parks says. "I'm having people who are middle-aged come in and register to vote for the first time. I've had young people register to vote. There's an interest every place."
Parks explains some ways to help people become more enthusiastic and interested in voting.
"If you're on the fence, just educate yourself on the candidates," Parks says. "If there are candidates you just don't know a lot about you can skip that, but you can vote in the areas you are educated on and have an opinion. There's a couple of constitutional amendments questions on the ballot that are important as well. I just think people should educate themselves and become active in voting."