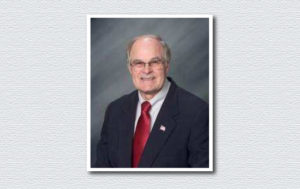 HIGGINSVILLE, Mo. – The longtime mayor of Higginsville is stepping down in a few short days after 31 years of service.
Mayor Bill Kolas chose not to seek re-election, instead planning more traveling time with his wife. An open house is scheduled for the mayor from 3 to 6 p.m. on Monday, June 15, at the Higginsville City Hall Auditorium, prior to Kolas leading his final council meeting.
"And then at 6 o'clock, I'll conduct my last board of aldermen. The new folks that'll be taking office will be sworn in and then my official duties as the mayor of Higginsville will be done," Kolas said.  "I say that and I think, 'Holy cats, Is that right?' It'll seem different for a while."
Take a drive down Highway 13 – or Highway 20 – to Higginsville, and you'll see a vibrant community that wears its pride in its appearance. Kolas said that wasn't always the case.
"We cleaned up properties, added new stuff, got new businesses in town and got businesses where we didn't have businesses. But when we did that, we got people to paint their facilities, mow their grass, plus and take down derelict buildings and put up something new in its place." he said. "That's has been a project for all of us and one I  strongly supported from the day I walked into office. "
Under his tenure, the city upgraded its electric plant in 1996, reselling some of that power to pay down the $16 million project. Eyesores in the downtown area and elsewhere were razed, but replaced by new buildings, he says. His town is seeing growth on or near Highway 13 with a new Wood & Huston bank location and a Dollar Tree opening in mid-July. An expansion at TTG industries has added more employees, and the mayor said the city is seeing interest is properties available for development.
Fiscal responsibility is a theme when you talk with Mayor Kolas. That may help Higginsville weather the financial storm caused by Covid-19.
"The revenues did fall short; however, we are seeing lately they are kinda coming back – at a least straight line instead of going down.
the mayor said. "Financially, we are strong. The general fund side may be a little tenacious, but the rest of the services and accounts are good. We're strong."
The retiring mayor says he'll continue to be a board member of Pioneer Trails Regional Council's Transportation Advisory Council and the Highway 13 Coalition, whose ultimate goal is a four-lane highway from Clinton to Hamilton. Although a four-lane may not be in Highway 13's near future, MoDOT discussed improvements with the Highway 13 group prior to the pandemic.
The mayor's public service began  much earlier than his days on the council. He enlisted in the U.S. Navy in 1959 and was sent to the Panama Canal during the Cuban Missile Crisis in 1962. He says he proud of the work he did then, and still keeps in touch with service buddies, he said.
"The older I get, I think even more fondly about that today than I did then," he said.
While talking about his Naval service – as on cue – his cell phone rings with "Anchors Away," the U.S. Navy them song. He laughs and said, "Yeah, I guess I 'm fond of the Navy."
When asked if he wanted to add anything else to the conversation, Kolas quoted Ralph Waldo Emerson for his philosophy of living.
"The purpose of life is not to be happy. It is to be useful, to be honorable, to be compassionate, to have it make some difference that you have lived and lived well," Kolas said, quoting Emerson.
"And I am happy, so I can add that part to the rest of this. Ralph Waldo Emerson, he was so sharp. He knew what we had to do to make our life well."