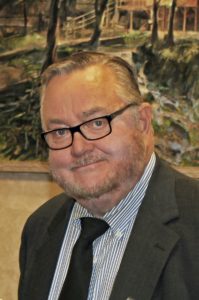 FAYETTE — In front of the Howard County Courthouse on election day is a podium with a microphone. While the county clerk's office is hard at work counting ballots, Jim Steele is waiting for his moment to step to that podium and address the community waiting to hear the results.
For 12 years, Steele has been Howard County's voice of the election, meaning that he is currently the man carrying on a centuries-long tradition of standing in front of the courthouse located in Fayette and reading off the election results to a crowd.
"Even before statehood, so before 1821, it was a tradition here in Howard County to have usually an auctioneer, someone with a booming voice, to stand out on the courthouse and read the election results," Steele says. "And large crowds would gather because that's about the only way they could get the news."
Steele reads the results as they come in — precinct by precinct — before reading the totals when all votes accumulated. At the end of Tuesday's election, Steele stepped aside to let County Clerk Shelly Howell say a few words about the stellar voter turnout.
"I predicted a 65% turn out," Howell said. "We were just shy of that. I want to say congratulations to all the winners. It was a good race for all. And for the winners, we have a long way to November — good luck."
Not only does the crowd show up for live election results, but it has become a social gathering. Steele says that crowds can fluctuate depending on who or what is on the ballot, but that doesn't stop the community from showing up for a tradition.
"Often times – particularly in general elections – the candidates will there and will come up, congratulate them and give them a chance to have a few words," Steele says. "People gather out there and sometimes they bring snacks and beverages and its kind of a social occasion."
Steele has a background of working in media. He studied radio and broadcast at the Missouri School of Journalism and was the owner, editor and publisher of the Fayette Advertiser and Democrat-Leader for more than a decade. His broadcast background is what landing him his current role.
"I was asked to do it by former county clerk Kathryne Harper," Steele says. "She and I had been friends and she knew I had been in radio and I often times had been an emcee for various things around here including festival of the arts and it just seemed like something to do."
Crying out election results is only a portion of how Steele spends his time. Since he's been in retirement, he's taken up more historical work as a way to stay active in the community. For him, election day is only a sliver of Howard County's rich history that there is to appreciate.
"We have a book that came out on our sesquicentennial in 2016. It's the Howard County history and I edited that. I'm president of the Boonslick Historical Society, so I do try to stay busy in retirement."