Newsmaker for 1/28/2020: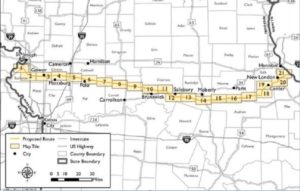 JEFFERSON CITY, Mo.  The Missouri House of Representatives voted Monday in favor of legislation that prohibits use of eminent domain in the construction of certain projects.
The Grain Belt Express, a $2.3 billion project, would cross the property lines of approximately 570 landowner across 8 counties.  Two of those counties, Monroe, and Ralls, is within the jurisdiction of Republican Representative Jim Hansen of Frankford, who sponsored the House legislation that prohibits use of eminent domain for a private project.
The vote, 118-42 in favor, follows an appeals court decision which affirms the Public Service Commission's decision that the GBE line is in Missouri's interest.
According to Hansen, Missouri's renewable energy requirements are currently met, and is another reason the state should have passed on the project.  Hansen, while understanding the reasoning behind the line, also does not think the benefits outweigh the harm that would be done to the state.
The high-voltage power line is to carry wind energy from Kansas across Missouri and Illinois before hooking into a power grid in Indiana that serves eastern states.
Companion legislation is being composed in the Senate.
Rep. Hansen full audio: