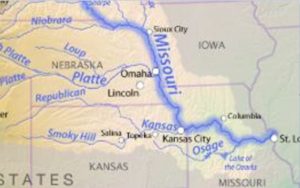 The Missouri river basin management team is expecting an above average potential for flooding this Spring.
Rainfall through march may be average, according to predictions, but chances extended thru May are above average, according to hydrologist Kevin Lau.
Flooding in Missouri is also likely this Spring, according to Lau.
Possibly contributing to the potential flooding will be spring runoff which is still expected to be high according to Basin Management Chief John Remus,
Other experts said the mountain and plains snowpack will soon be coming into focus with runoff production. However, a mild winter has precluded frozen ground playing a part in that runoff.
The river water releases at Gavin's Point were also declared to be a record for February, as the basin management team attempts to maintain flood management storage capacity, as conditions allow.