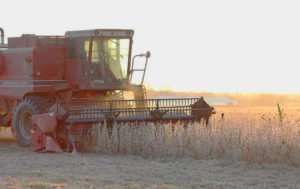 National corn and soybean leaders gathered virtually last Thursday, July 30, to publicly discuss the future of agriculture trade and supply chains during this challenging time. In an attempt to lighten some concerns related to the impact of COVID-19 on agriculture, leaders of the U.S. Soybean Export Council and National Corn Growers Association presented updates while addressing some high-interest questions.
Jim Sutter, CEO of the U.S. Soybean Export Council, says that the soybean farmers have been resilient and dedicated, despite the recent challenges in the industry.
"What sets the U.S. soy apart from other origins is the sustainability of our production and this is thanks to the great work U.S. soy farmers do as they produce their crops on multi-generational farms, nurture the soil and follow the guidelines that have been put out by the USDA"  Sutter says.
Diversification of international markets and building demand have always been a focus of the U.S. Soybean Export Council and the American Soybean Association, but will especially be a key factor moving forward. In regards to the phase one trade deal with China, Sutter explains that they are pleased to see it being implemented.
"American Soybean Association has been doing work collectively for 40 years and we believe the relationship we built there is still in good shape," Sutter says, adding "we are hopeful that the U.S. will regain our market share in China while continuing our focus on diversification and growing in other markets."
The ability to adapt during this unprecedented time has lead to new ways of communication, allowing for communication to continue. U.S. Soy Export Council and other soy-related organizations have utilized the virtual method of gathering and outreach to ensure the distribution of information and updates in maintaining their connection with farmers, the public, and other commodity organizations.
Sutter offers optimism in the midst of the negative stigma created by the pandemic.
"Global soy demand every year on average grows at a growth rate of 4 percent, so it means roughly we will need the equivalent of another U.S. crop to supply the world in 10 years time."