Newsmaker for 1/14/20: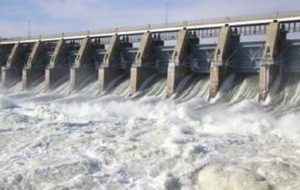 The U.S. Army Corps of Engineers continues preparing the Missouri River Mainstem System for expected 2020 runoff.
During the conference call for January, members of the Missouri River Water Management Team indicated there is a risk of flooding this spring along Missouri River tributaries.
According to John Remus, Chief of Missouri River Water Management Division, the corps is doing everything that can be done following a historic 2019.
The Corps indicated that later in the year they do plan to release higher than normal levels of water from dams to accommodate expected flooding
for now, a Slight decrease in Garrison Dam releases has been due to ice have hampering the ability to reduce reservoir levels.  Elsewhere, warmer than normal temperatures have induced officials to increase release rates at Gavin's Point Dam by 3,000 cubic feet per second.
Gavin's Point releases have been increased from 27,000 cubic feet per second to 30,000 cfs since last week. Officials plan to hold that volume into February.
Efforts to reduce flood likelihood may not succeed. According to
Colonel John Hudson, Omaha District Commander, U.S. Army Corps of Engineers:
"It's important that you remain vigilant and have an emergency evacuation plan in place."