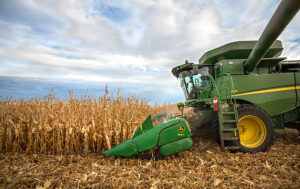 In the upcoming weeks, Missouri farmers will be harvesting their crops. The Missouri State Highway Patrol is putting in its best efforts to minimize accidents during this year's harvest season. MSHP Spokesperson Sgt. Bill Lowe tells KMZU more.
"We're utilizing social media to get that message out and put news releases out relating to this issue to get that information out to others," Lowe says. "Really it's just a reminder of the traffic patterns and how they change especially as you go into each season."
Farmer Steve Lambert can attest to reminding people to slow down at this time. Earlier this week, he was simply turning into the driveway of his son and daughter-in-law's farm when his truck was hit. Lambert was driving in a no-passing zone when the accident occurred.
"I went up to Matt and Kate's corn maize up at his farm, north of my farm and was just taking my time," Lambert says. "I had my turn signal on and ready to turn. It was a no-pass zone at an intersection and I was in the process of turning left on the gravel road and the next thing I knew he was trying to drive through my pick up with me."
In 2019, the Missouri State Highway Patrol reported 193 Missouri traffic crashes involving farm equipment. In those crashes, three people were killed in 64 were injured. Sgt. Bill Lowe says that so far, there aren't any trends to describe at this point, however there has been one significant accident at this time.
"We haven't seen that specifically with the harvest season just kicking off," Lowe says. "We're probably going to see a few more incidents. We had one recently in Cass County where a farm implement hit another vehicle, but I haven't ' seen or heard of a significant amount."
In the moments of the accident, Lambert had to take time to fully process what happened. The timing was everything, as he says the potential for a much worse outcome was there.
"It took me awhile to get calmed down after it was over with," Lambert says. "If it had been a second or two later he probably would've drove through the cab with me and it probably would've been a completely different turn out."
As harvest season is a busy time, Lambert says that he thinks most accidents could be chalked up to drivers wanting to save as much time as possible while traveling.
"Everybody gets in a hurry during harvest," Lambert says. "It's a busy time and everybody is trying to get their own job done and nobody really thinks. And there's too many distractions anymore with cellphones and all that. It's got to where we avoid moving machinery on Highway 36 because we've had a couple close calls with people. We had flashing lights and a lot of people just don't pay any attention to that."
Lambert also says that in the case of semis, some trucks maybe overloaded and some drivers may not be familiar with the weight of their loads.
"I think a lot of it is during harvest there's a lot of people driving semis that possibly are not familiar with what they weigh and how they stop," Lambert says. "The boy who hit me didn't even hit the breaks – he was probably about a quarter-mile past me before he got it stopped. I'm not saying he was, but a lot of trucks are probably loaded heavier probably than they need to be – or should be- because everyone is trying to do as much as they can, and it takes awhile to get one of them stopped."
Lowe details some of the most important precautions farmers can take and motorists can pay attention to while driving during harvest season, such as slow moving vehicle signs and lighted equipment.
"The most important precaution is making sure they have some sort of slow-moving vehicle triangle and making sure you're letting motorists know that you're out there and traveling significantly below the speed limit," Lowe says. "The other aspect is if you are traveling on a two-lane road and you get traffic built up behind you, pull off and let traffic get by you to get traffic flowing."
Lambert describes some of the precautions he and other farmers may take to ensure their safety on the road.
"We remove the hedge from the combines and removing the platforms so we're not too wide," Lambert says. "We run flashers and we usually have a pickup ahead of the equipment moving with a flasher on top."
Overall, Lambert thinks the biggest lesson that can be learned through events like farm and harvest-related driving incidents is to be patient.
"Everybody just needs to slow down," Lambert says. "It will all happen, it always has. And it doesn't take but a second for a screw up."