KANSAS CITY, Mo. (NAFB) — Nominations for the 2016 America's Farmers Mom of the Year are now open. By nominating your favorite farm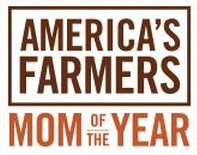 mom, she could win up to $10,000. This is the seventh year for the program. Monsanto's Tracy Mueller says it's all about celebrating amazing women in agriculture.
The nomination forms can be found online.
A panel of judges from American Agri-Women will review nominations and help Monsanto select five regional winners.
Nominations must be submitted before March 29
th
, 2016. To make a nomination, visit AmericasFarmers.com and submit an entry online.