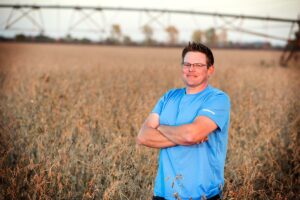 Jefferson City– Kyle Durham of Norborne, Mo. was named to a second term as the Missouri Soybean Merchandising Council's chairman following a vote July 27th by the board of directors. In that role, he leads the 13-farmers elected to oversee Missouri's soybean checkoff investments.
This will be Durham's second and final one-year term as the Council's chairman. He was first elected to the role during the board of directors' summer 2020 meeting.
"The Missouri Soybean Merchandising Council exists to drive innovation in all things soy, and this is an exciting time to move forward with soybean research, new uses and new markets," Durham said. "As a farmer-led organization, we take our responsibilities to heart, ensuring Missouri soybean farmers are continually benefiting from market opportunities and have the most up-to-date research information at their fingertips. It's an honor to have the support of the board as chairman and I'm looking forward to growing our partnerships in education, research and increasing demand for soy together."
You can visit the MOSoy website to read the full article and learn more information on the Missouri Soybean Merchandising Council.