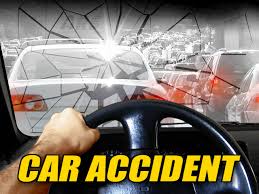 A Norborne resident, 20 year old Jordan Thomas was seriously injured in a one vehicle crash on Sunday, March 22, 2015.
Thomas was found in his vehicle on Highway D North of Norborne in Carroll County. According the crash report, Thomas was found at 7:15 a.m., but a family member reports that the crash happened sometime during the night. The Carrollton extrication team was called to get Thomas out of the vehicle.
The crash occurred when the vehicle traveled off the right side of the roadway, striking an embankment, overturning and coming to a rest on its top. Thomas was LifeLighted to Truman Medical Center and was not wearing a seat belt at the time of the crash.
The 2004 Honda Civic that Thomas was driving has been labeled at totaled.
Thomas was also issued a citation for Driving While Intoxicated before being released to medical personnel. The citation was issued at 7:55 a.m. according to the patrol report.