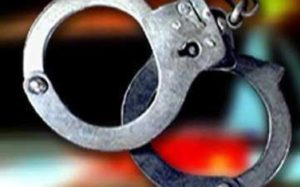 A Norborne woman, suspected of stealing from several vehicles in Richmond, was charged with 10 criminal counts on Friday, May 1.
Paige Aleen Evans, 26, of Norborne is currently in the Ray County Jail on a $5,000 bond. She is charged with 5 counts of of tampering with a motor vehicle, 2 counts of stealing, 1 count of resisting arrest and 1 count of attempting escape from custody.
According to Richmond police's probable cause statement, officers were called to East North Main in Richmond around 7:30 a.m. Friday after Evans was allegedly seen getting into several vehicles. When arrested, Evans was found with items, valued around $600, from a nearby vehicle owner. Later, the arresting officer returned to the location to determine that Evans allegedly broke into five cars in that neighborhood.
Evans, who earlier told the officer she thought she was in Chillicothe, resisted arrest, and when placed in the police cruiser later slipped out her left handcuff, according court documents. She told the officer that the handcuffs hurt and she had an itch, according to court documents.
No future court dates have yet been scheduled for Evans.